Property Ownership in Colorado Divorce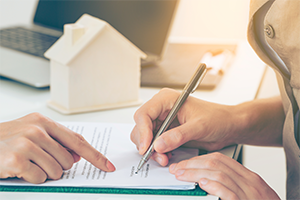 Real property is often sold or set aside to one spouse in Colorado divorce. There are two common ways in Colorado for more than one person to own real property; joint tenancy and tenancy in common. Ownership type is important because it governs how one person can transfer his or her right to the property to another and what happens if an owner dies. In both types of property ownership, one spouse may completely transfer his or her interest to the other in divorce, AKA dissolution.
Tenancy in Common
The first type of tenancy is tenancy in common. When no other form of ownership is specified, tenancy in common is the presumed type of ownership. In tenancy in common, each co-owner has an undivided interest in the property. An owner can transfer his or her interest by sale, gift, or will. Also, each co-owner also can mortgage, sell, or transfer his or her own interest in the property without the consent of the other owners. There can be any number of tenants in common and they can have different percentage interests in the property.
If a co-owner dies, his or her interest passes to whomever he or she set forth in a will, or if there is no will by intestate succession. Intestate succession is the inheritance priority among family specified by the state, which sets forth which family member will receive property.
Joint Tenancy
Joint tenancy is usually how married couples own real property. For joint tenancy, the home deed must specify joint tenancy ownership. The deed can state "as joint tenants with right of survivorship" or "in joint tenancy with right of survivorship". There can be more than two joint tenants, though this is the most common form of real property ownership for two married parties. Joint tenants can have different ownership interests in the property, and the interests do not have to be equal. However between married parties, the interests are usually equal.
If a joint tenant dies, the other joint tenants continue to own the whole property. There is no need for probate or a new deed. However, a death certificate must be recorded in the county where the property is located. The remaining joint tenants acquire the property interest of the deceased joint tenant, but not acquire any liens attached to the property interest of the deceased joint tenant.
If a joint tenant in a two-person tenancy conveys his interest to a third party, the joint tenancy is severed. The remaining owner and the new owner will then be tenants in common. However, conveyance is different when the joint tenancy is held by more than two people. When property is held in joint tenancy by three or more tenants, only the conveyor's interest ends. The remaining joint tenants continue as joint tenants, while the new owner is a tenant in common with the joint tenants.
Turning Change Into Opportunity in Colorado Springs
Colorado Springs Divorce and family law matters are difficult to navigate alone. The court system is more complex than it should be. Remember that change often creates new opportunity and a better future. Janko Family Law Solutions can help ensure that your best interests are protected. Contact us at 719-344-5523 or complete our online form to set up a free thirty-minute informational consultation.
A legal team can guide you through Colorado Springs matters involving real property by handling pleading and motion preparation and filing, negotiation, mediation, and court proceedings from start to finish. This allows you to focus on moving forward to a better future rather than on trying to figure out how the overly complex court system works.