Dissolution and Family Law Proceedings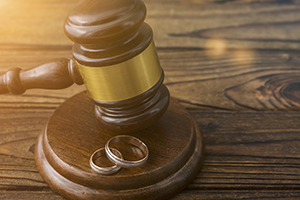 Dissolution and family law proceedings follow specified procedures upon court filing. Because of that, some people choose to do as much preparation as possible before filing. Resolution will occur either through agreement by the parties or a court deciding the issues. Sometimes parties resolve some of the issues between themselves and a Court decides the remainder. In order for a court to hear a matter, it must have jurisdiction over it and the matter must be filed in the proper venue. Following is a brief explanation of jurisdiction, venue and important case events that occur at the start of a case.
Jurisdiction
In order for a Colorado court to hear a dissolution matter, it must have jurisdiction over the subject matter of the action. The criteria for subject matter jurisdiction is:
At least one of the parties has been domiciled in Colorado for 91 days preceding filing
The marriage is irretrievably broken
Ninety-one days or more have passed since personal jurisdiction was acquired through service of process, co-petitioning and or entering an appearance
Venue
Venue refers to the county in Colorado where an action is filed. Jurisdiction lies where the Respondent is located, or where the Petitioner is located if the Respondent is served in the Petitioner's county.
Automatic Temporary Injunction
Upon filing and personal service of a petition for dissolution or legal separation, an automatic temporary injunction goes into effect that prohibits:
Transfer or disposal of marital property outside of ordinary living expenses
Disturbing the peace of the other party
Removal of children from the state without the consent of the other party or the Court
Cancellation of insurance policies benefitting the family
Because of the injunction, it is important to consider the timing of filing of proceedings.
Initial Status Conference
Either a status conference must be held or a stipulated case management plan must be filed within 42 days after filing of the petition. The Petitioner is responsible for scheduling the initial status conference and providing notice of the conference to the Respondent. The purpose of the status conference is to assess agreement or disagreement and any need for temporary orders.
Motions
A motion is a request to the Court to do something or order someone to do or refrain from doing something. Motions practice is more limited in domestic relations practice than in general civil litigation. Without consent of the Court, only motions pertaining to the following can be filed:
Jurisdiction
Venue
Service and Consolidation
Protection Orders
Contempt
Petition or response amendment
Withdrawal or substitution of counsel
Sealing a record
In limine
Review of a magistrate order
Post-decree motions
Parties must confer with each other prior to filing motions. The public policy intent of the conferral requirement is to encourage out-of-court issue resolution. All pleadings must be signed by the attorney of record, unless a party is acting pro se. Usually a party has 21 days to file a response to a motion, and then the initial filer can reply within 7 days of the response.
Would you like to turn change into opportunity? At Janko Family Law Solutions we know how to work with you to reach your transition goals. We are committed to pursuing settlement to preserve family relations to the maximum extent possible, however also zealously represent your interests in contested litigation if desired or necessary. Give us a call for a complimentary case assessment at 719-344-5523, or fill out our confidential online intake form.