Real Property in Dissolution/Divorce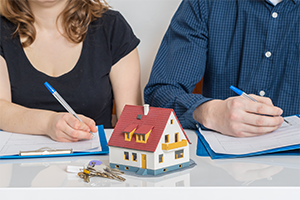 Home sales are common in Colorado dissolution/divorce. It is important to understand the realtor's role in a home purchase or sale. A realtor can either be an agent for one party or a transaction broker. If the realtor is your agent, he or she represents only you in the transaction and not the other party. This is true whether you are the buyer or seller. A transaction agent can assist both the buyer and seller, however is not an advocate for either one. The transaction broker is neutral and his or her role is simply to facilitate a purchase or sale based on what the buyer and seller agree to mutually.
Buyer's Agent
A buyer's agent has disclosure obligations to the represented party. For example, the buyer's agent must tell potential buyers about any adverse material facts of which he or she is aware related to the property. A written agreement is required between the buyer and agent setting forth each parties rights and obligations. As an advocate, a buyer's agent can give you information about new properties on the market. This is important in Colorado where markets in many areas are hot and properties go fast. A buyer's agent can also assist in preparing the best purchase offer when competing offers are expected. It is not unusual for bidding wars to occur in Colorado due to high demand and low housing inventory.
The agent has fiduciary obligations to the client, much like those of an attorney. The attorney or buyer's agent can only represent one party to a transaction. There is a high potential for conflict of interest between divorcing parties, therefore an attorney is only permitted to represent one. This is also true of real property purchases. As for advice and information provided in agent and attorney situations, an attorney can speak to the other party, however can not offer him or her legal advice. The legal advice is reserved for the attorney's client alone. Similarly, the buyer's agent can speak to the potential purchaser, however does not share the same depth of information.
Transaction Brokers and Dual Agency
A transaction broker assists the buyer or seller or both by fully informing the parties, presenting offers and assisting the parties with contract matters without being an advocate for either the buyer or seller. No written agreement required for this arrangement.
Some states allow a dual agency representation, wherein the realtor represents the buyer and the seller as an advocate, however Colorado does not allow this because it creates a conflict of interest. This is because the buyer's and seller's interests may differ.
How Can an Attorney Help?
An attorney can guide you through Colorado Springs dissolution-related real property matters by handling pleading and motion preparation and filing, negotiation, mediation, and court proceedings from start to finish. This allows you to focus on moving forward to a better future rather than on trying to figure out how the overly complex court system works.
Turning Change Into Opportunity in Colorado Springs
Colorado Springs Divorce and family law matters are difficult to navigate alone. The court system is more complex than it should be. Remember that change often creates new opportunity and a better future. Janko Family Law Solutions can help ensure that your best interests are protected. Contact us at 719-344-5523 or complete our online form to set up a free thirty-minute informational consultation.